Posted on October 20, 2010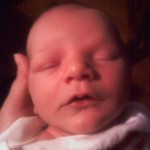 Congratulations to Shawn and David on their new Everlasting Miracle - Baby Riley - Born October 6, 2010.
He was 7.9 lbs and 20 inches long, and we have heard that he is behaving beautifully in his 17 hour car ride home! Please pray for their safe arrival, and please pray for birthmother, Amanda, who has been so self-less and courageous during this difficult time in her life. She has given Riley the best gift anyone will ever be able to give him. We wish ALL of you the best on this new path in your journey through life.