Posted on May 18, 2012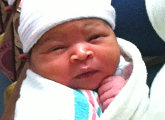 Please welcome our newest, everlasting angel, Giovanna Belle. She was born on May 7, 2012, and weighed 7lbs 2 oz.
Joe and Gretchen drove 7 hours from Texas to Louisiana in just 24 hours notice to pick up their little baby girl. They signed up with Everlasting in February and had their little girl in their arms in May. Life could not get any more exciting than that! We wish them the best.