Posted on September 14, 2012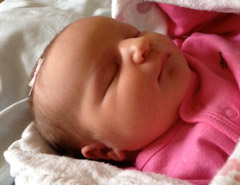 They adopted their baby girl in 28 months. She was born on July 11, 2012, and she is an Angel! Traci and Tom have so much gratitude for their birthmother, and we all know she is definitely a remarkable woman! As Traci and Tom tell us, "We are over the moon!"
The staff at Everlasting wishes them all the best! Thank you for allowing us to build your family through the miracle of adoption.