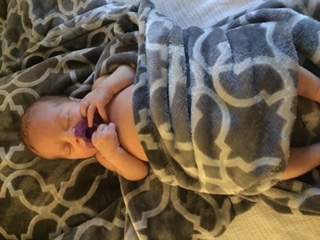 Posted on October 6, 2015
Everlasting Adoptions would like to announce another September Blessing! Heather & Mark's adorable son, Grayson, was born on September 22, 2015 in Michigan. Grayson weighed 8 lbs. 4 ounces and was 20 inches long. Heather & Mark said that "The addition of Grayson to our family has been such a blessing. When you hold your child for the first time the reality of it all hits you. The responsibility you took on is impressed upon you. You really would do anything, or be anything they need you to be. Because when you look at them for the first time all the memories of your struggles, all those near misses, the hurt, it all fades away and what's left is all your hopes and dreams of the life you will have together. One look at our son Grayson and my world was turned upside down. He changed everything at the first glance."
Congratulations Heather & Mark! We are so thrilled for you! We would like to thank Grayson's birthmother for choosing the very beautiful option of adoption. Best of Wishes to All!