Posted on June 28, 2010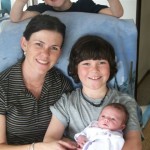 Dear Carol and the Staff at Everlasting Adoptions,
We would like to take this moment to thank you for your commitment to our family and allowing us the opportunity to add our daughter to our family. We are forever grateful to you and your staff for the effort and dedication you provided throughout this entire adoption process.
Now that there has been time for us to reflect on this amazing journey we have traveled, we understand that this wouldn't have been possible if it wasn't for you. You constantly were, at times, not only our sounding board, but also a person that we could truly trust and rely on.
As we sit here today, we know that the dream of ours of having a daughter wouldn't have been possible without the dedication and support from the most trusted and caring adoption agency.
We will forever be indebted to you, and we will always hold you so close to our hearts and will never forget all the sacrifices and hard work you provided to us. Every time we give Ava a hug or kiss, we will be reminded of you and what you have done for us.
We have learned so much about each other, and believe that this process has made us better people. When we spoke to you for the first time, we knew there was no other reason for us to speak to any other agency; in our hearts we knew we found our guardian angel that we were so desperately needing and looking for.
From the bottom of our hearts we say Thank you, and may God bless you and all other future Everlasting adoptive parents and children.
Sincerely,
Tom, Mary, Thomas, Hunter, Luke, and Ava