Posted on July 11, 2010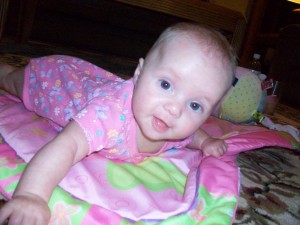 I just wanted to drop you a line and let you know Vern, Savannah, and I are doing well! Savannah is 4.5 months old, and we are so fortunate to have her. She laughs to the point of hysterics, rolls over, and has started to scoot! She really is quite fun!
I have attached a very cute picture for you! Interestingly, so many people have approached me since our adoption expressing their interest in doing the same. I have without hesitation given your name and company as a reference. You may or may not have heard from them...the decision to adopt takes some time. But I just wanted to let you know that I would recommend no one besides you...and I did my research before I picked you!
I hope you are doing well! I know you have a very trying job at times. As you know, I deal with people and their problems all the time. It is very draining at times and many days I ask myself why I bother. Please know, no matter what challenges meet you day to day, you have made an invaluable difference in the lives of many people including myself and Vern.
:) Michelle